Data shows the Bitcoin active addresses haven't significantly increased recently, indicating that the current rally may be unsustainable.
Bitcoin Active Addresses (30-Day MA) Stall Despite Rally
As an analyst in a CryptoQuant post pointed out, previous BTC rallies saw the metric increase in value. The "active addresses" is an indicator that measures the daily total number of Bitcoin addresses involved in some transaction activity on the chain.
The metric accounts for both the senders and receivers and counts unique addresses. It means that if an address has made multiple transactions throughout the day, it will still be included only once.
When the indicator is high, it often means many addresses are participating in some network activity. Such a trend implies that the blockchain is attracting traders and market participants.
On the other hand, low values suggest there aren't enough active users on the network, which could indicate that the general trading interest around the cryptocurrency is low.
Now, here is a chart that shows the trend in the 30-day moving average (MA) of Bitcoin active addresses over the last few years:
The 30-day MA value of the metric seems to have been mostly moving sideways in recent days | Source: CryptoQuant
As displayed in the above graph, the quant has highlighted the relevant pattern visible during two previous instances where Bitcoin was in a recovery state. During the 2019 rally and retracement from the COVID-19 crash in 2020, the 30-day MA BTC active addresses saw an uptrend.
This means that as the price trended upward in those instances, the user activity also increased, showing that demand was returning to the cryptocurrency. This spike in activity helped keep the respective price rallies running and sustained.
In the case of the recovery from the COVID-19 crash, the user activity also went on to see a few more rises later, ultimately building up into the 2021 bull run. The current scenario is more similar to the 2019 rally, as that price surge also took place as the coin seemingly recovered from a bear market.
Since the current rally has formed, there have been no noticeable rises in the 30-day MA Bitcoin active addresses, suggesting that demand for the coin may not have changed despite the price increase.
"The "price" of an asset is determined by the laws of supply and demand in the market. Crypto markets are no exception," explains the analyst. "For asset prices to rise, market interest and demand must be supported."
Unless the active addresses see a sharp increase in the coming days, the rally may not be sustainable if the pattern followed during the past instances is anything to go by.
BTC Price
At the time of writing, Bitcoin is trading around $24,700, up 15% in the last week.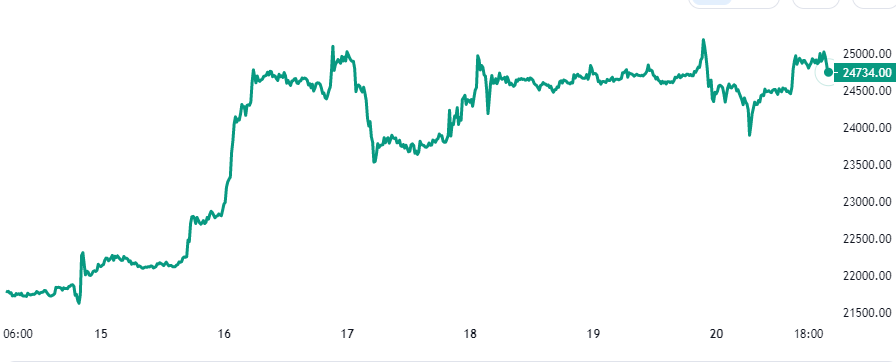 BTC moves sideways | Source: BTCUSD on TradingView
Featured image from Maxim Hopman on Unsplash.com, charts from TradingView.com, CryptoQuant.com